Safari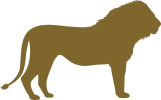 reservation
Online reservation is very easy:

Please choose:

- the number of people
- date
- and the time (only possible between 5 p.m. and 9 p.m.)

Please note that our tables are occupied several times when there is great demand (especially on the weekends). Therefore, you can stay for a maximum of 2 hours.
For larger groups, we recommend that you clarify the reservation with us in advance (by phone or email, contact details here). Please understand that we cannot always take special table requests into account.
Do you have allergies or other intolerances? Then please contact us beforehand.
Our entire team is looking forward to your visit! Let's have a nice evening together!